The SMR policy of Crédit Mutuel Alliance Fédérale is a structured approach based on :
Compliance with applicable laws and regulations,
Commitment to the Group's founding values,
The implementation of sectoral policies,
Cooperative and mutualist commitments daily,
Concrete achievements,
As such, the elected officials perform their duties independently and with integrity and honesty.
Ambition Members & Customers
Attentiveness to members and customers
Crédit Mutuel Alliance Fédérale's goal is to create a long-term relationship with its customers and members. The objective is to ensure that members receive the best advice so that they always benefit from the products and services they need.
Different actions have been implemented to enhance the quality of customers relations : the clarity of offers and the control of all promotional messages, contractual explanations, the respect of customers' rights in all circumstances and during collection operations, the rules related to canvassing operations, the handling of complaints.
Actions taken to create a long-term relationship with its customers and members
Specific training and significant training budget
Support for all employees in digital transformation
Quality of customer advice measured regularly
Satisfaction survey of goods and services delivered
IT Systems Security Committee
Adaptation of proposed offerings
Possibility for the customers to file a complaint on their personal space of the remote bank and to follow the evolution of the treatment of their complaint
Banking inclusion
Crédit Mutuel Alliance Fédérale is the bank for all customers and is attentive to supporting all those going through difficult life situations in respect of mutualist values, the professional codes of ethics and ethical and responsible actions.
Publication of the first policy in favor of fragile and vulnerable customers from 2018, offering a dedicated offer beyond the requirements of law.
Revision of the policy in favor of fragile or vulnerable customers in June 2020, which endorses, for example, the exemption of incident fees for holders of the offer.
A dedicated central governance body, the Fragile or Vulnerable Customer Committee ensures that the legislative obligations and best practices to protect fragile or vulnerable customers and promotes banking inclusion are properly implemented.
Link to PDF Policy on Engagement with Fragile or Vulnerable Clients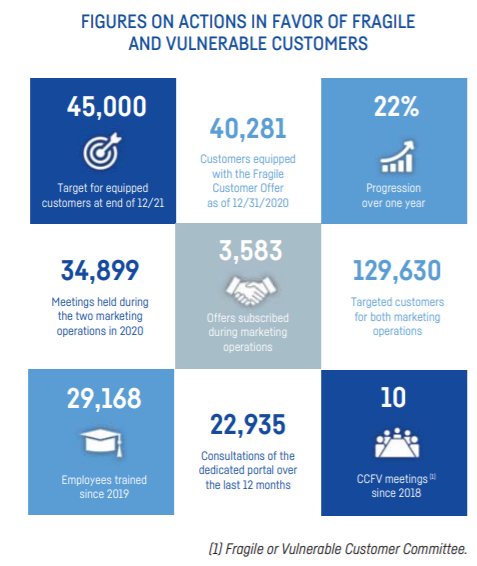 Risk management
Crédit Mutuel Alliance Fédérale provides its employees with a high level of continuous training to ensure they are well versed in prevention measures related to the fight against corruption, money laundering and terrorist financing and develops technological and in particular cognitive solutions to optimize their effectiveness.
Crédit Mutuel Alliance Fédérale has implemented a vigilance plan to prevent serious violations of human rights, health, and safety, and of the security of people and the environment within the framework of its activities.
Gouvernance Ambition
Efficiency of the governance bodies
The cooperative model imposes a certain transparency relative to the procedures attached to the appointment of members of the boards of directors, supervisory boards and the institutional life of the group.
In addition to monitoring the functioning of the boards of directors, the attendance of their members and the setting up of specialized committees, Crédit Mutuel Alliance Fédérale makes sure that the members of the boards of directors - who ensure a balanced and non-discriminatory representation of all members - are able to assume their missions in the best conditions.
Crédit Mutuel Alliance Fédérale develops personalized training programs* that take into account the professional skills and experience of each member.
* Training courses and support for the elected members - page 100 of the 2020 Universal Registration Document
Membership momentum
The smooth running of cooperative activities is underpinned by the wealth of opinions and expectations of the members.
So that all new Crédit Mutuel customers can fully participate in the Crédit Mutuel Alliance Fédérale's collective project, they are always offered the opportunity of becoming a member. Members are encouraged to become directors. The training of elected members is a priority.
Actions taken to ensure the dynamics of a cooperative governance
Training plan dedicated to each profile of elected representatives
Organization of co-operative life to strengthen attractiveness of membership
Encourage the involvement of elected representatives in local life
Creation of Member Agora, a social network and exchange platform to revitalize mutualist life and facilitate interaction between members
Societal Ambition
ESG Purchasing Policy (Environmental, Social and Governance Criteria)
Purchasing goods and/or services is an act of management and is part of the operational implementation of Credit Mutuel Alliance Federale's strategy. Crédit Mutuel Alliance Fédérale's purchase policy, deployed with all entities, incorporates economic and quality criteria, respect of technical requirements and ESG factors.
Every entity favors relations with suppliers and/or service providers whose contracts include the specific clauses from the reference texts on human rights and principles of combating all forms of corruption. It promotes proximity and long-term relationships.
Responsible relationships
Crédit Mutuel Alliance Fédérale has reinforced this initiative by requesting that all its suppliers sign a sustainable and responsible purchasing charter incorporating the internal commitments of the purchasing policy to ensure long-term commercial relations with partners committed to a process of compliance with the challenges of sustainable development.
In 2020, 3,209 charters were signed by CCS suppliers (suppliers whose revenue is greater than €5,000) and nearly 80 by Euro-Information suppliers (suppliers whose revenue is greater than €1 million).
Regional development
Credit Mutuel Alliance Federale, which is a leading employer with a strong regional presence due to the stability of its network, bases its strategy on the demand for long-term investment to develop the economic and social ecosystem of each region.
It pursues, either directly or in partnership, the distribution of personal and professional microloans to foster the development of activities in the regions.
It undertakes to promote the development of innovative companies and start-ups to serve the real economy and the territories.
For instance, Fédération du Crédit Mutuel Sud Est remains a founding partner (and the exclusive partner in the banking and insurance sector) for H7, Lyon's center for start-ups and innovation. H7's mission is to accompany and accelerate start-ups by providing a federating space open to all entrepreneurs.
To consolidate this system, from 2019, a specific dedicated branch for start-ups and innovative businesses was established with account managers trained to support innovation and growth inside the Crédit Mutuel and CIC banking networks including offers and specific measures.
Promote local initiatives
By drawing on its cooperative and mutualist model, Crédit Mutuel Alliance Féderale notably supports customer-member associations by forging partnerships (financial or material) involving elected members and employees. It also participates in patronage and sponsorship operations that promote projects in the fields of education, sports, music, culture and professional reintegration.
Thus, Fédération du Sud Est has signed a partnership agreement with the FORSE association, whose objective is to promote CSR throughout the Auvergne Rhône Alpes region.
Fédération CMA supports the Athletics Committee through a partnership promoting the Performance Academy. This is an innovative concept enabling young athletes to develop their athletic practice while benefiting from academic and solidarity-based support. The objective is to provide access to high-level sport by combining both an educational and sports school curriculum without leaving the initial school. The system was rolled out in 14 schools and represents 90 intervention sessions.
CIC Ouest supports the association Toit à Moi, which helps people in situations of extreme exclusion to change their lives in the long term by providing them with housing and supporting them in their reintegration.
Actions taken to create a lasting relationship with customers and members
Creation of a corporate foundation: «Créavenir» to help and accompany member-customers in difficulty
More than 200 regional conventions have been signed with social integration association networks
Development of the « Lyf Pro » application, a secure payment solution for collecting electronic donations for associations
Launch of « Start innovation CIC » and « Semeur d'innovation » to help member-customers with projects in a spirit of synergy with players in the innovation ecosystem
Social Ambition
Equal opportunity
Crédit Mutuel Alliance Fédérale affirms its willingness to continue as a bank for everyone and to promote equal opportunities. In addition to the great contribution of all our employees, and on top of their expertise, Crédit Mutuel Alliance Fédérale also benefits from their cultural diversity in terms of gender, origins, geographies and social classes.
Crédit Mutuel Alliance Fédérale is firmly committed to work-study programs and integration into employment.
Within the scope of the Pacte Avec Les Quartiers pour Toutes les Entreprises (Pact with Districts for all Businesses) (PAQTE) launched in July 2018 by the City and Housing Minister, Crédit Mutuel Alliance Fédérale and the State Employment Service signed an innovative partnership agreement for the economic inclusion of young people from the Priority Urban Areas.
Every year, an active recruitment policy has been developed and more than 3 500 staff with long-term contract have joined Credit Mutuel Alliance Fédérale. The target is to increase the recruitment of work-study students from 900 to 1300 per year reserving 25% for students from poor urban districts and rural areas and offering to the 80% of the total a long-term contract. In addition, we aim to increase to 2 000 the total of annual interns within the group.
Along with these commitments, Crédit Mutuel Alliance Fédérale has also created the Apprentice Training Center to develop work-study programs and to encourage the professional inclusion of young people.
Support career development and mobility
Crédit Mutuel Alliance Fédérale invests heavily in the training of its employees in order to develop their skills and enable them to move into other professions. Even in a context as disrupted as in 2020, 4.45%(1) of the payroll expense was allocated to the training Crédit Mutuel Alliance Fédérale employees. To meet the training needs during lockdown periods, 250 modules were adapted for remote training purposes. This educational investment has made it possible to support professional development and to carry out all the certifying training courses which are key in conducting business.
Crédit Mutuel Alliance Fédérale has a structure that is entirely dedicated to employee training.
Actions taken to create a relationship of trust with stakeholders and employees
The disability charter is embodied by actions to promote the recruitment and integration of disabled workers and to ensure they enjoy the same conditions as any other employee.
The creation of an anti-discrimination charter to combat against discrimination, promote diversity and vocational integration and keep disabled workers employed inside Crédit Mutuel Alliance Fédérale.
A "Mon Allié Digital" (My Digital Ally) program was launched to help employees understand how innovations in digital tools and services affect their jobs and for them to be more proactive and relevant when answering customers.
The goal of Crédit Mutuel Alliance Fédérale's 2019-2023 strategic plan ensemble#nouveaumonde, plus vite, plus loin ! is to train 100 % of employees in the transformation. By the end of 2020, 52% of employees enrolled in the "Digital Passport" training program had been certified.
A Crédit Mutuel Alliance Fédérale apprentice Training Center was created.
Promote Quality of Work Life ( QWL )
Crédit Mutuel Alliance Fédérale has adopted a QWL approach underpinned by its mutualist values. Reconcile the improvement both in employees' working conditions and the overall performance of the group in a rapidly changing environment remains priority.
Crédit Mutuel Alliance Fédérale voluntarily communicates information on all the charters, agreements and rules that govern the life of the company in a working environment that is in the full throes of digital evolution. The aim of Crédit Mutuel Alliance Fédérale is to raise employee awareness of projects on a regular basis, to facilitate their involvement and ensure they know the procedures to be put in place so that they can be heard and protected in their function while adhering to Crédit Mutuel Alliance Fédérale's rules of conduct and demonstrating respect for one another.
In 2020, a framework agreement on Quality of Life at Work and remote working was signed. This framework agreement provides for a series of basic measures that may be supplemented by specific commitments for each entity.
Framework of common measures of the QLW framework agreement:
Optimize the day-to-day organization of work
promote health at work
improve employees' mobility between home and work
encourage the development of a "responsible" management model and encourage employees to get involved
facilitate work-life balance
set up regular and voluntary distance work
Facilitate the labor relations process
The organization of social dialog and the procedures for reporting, negotiating and consulting with staff respond to the desire to work in close collaboration with all the company's stakeholders and to ask Crédit Mutuel Alliance Fédérale's priority questions about the strategic topics.
Environnemental Ambition
Reduce the environmental impact of Crédit Mutuel Alliance Fédérale
Aware of its role in the service of the economy and development, Crédit Mutuel Alliance Fédérale is committed to conducting all of its activities in a responsible manner. Consideration of environmental, economic and social issues carrying out its business is one of the main areas of focus of its sustainable development policy.
Crédit Mutuel Alliance Fédérale has maintained the decision to reduce its carbon footprint by 30% by the time of the new ensemble #nouveaumonde plus vite, plus loin ! (together#today's world faster, further!) strategic plan.
To meet this objective, Crédit Mutuel Alliance Fédérale commissioned a specialized firm to support it and chose to apply the ISO 14064 standard, which provides a framework for accounting and verifying greenhouse gases in the office life scope for all scopes.
And also as part of the new strategic plan ensemble#nouveaumonde, plus vite, plus loin ! (together#todaysworld faster, further!), Crédit Mutuel Alliance Fédérale is strengthening its environmental ambitions and committing to reduce the carbon footprint of its corporate and investment credit portfolio by 15% by 2023.
Reinforce solutions and offer quality and responsible service
Crédit Mutuel Alliance Fédérale provides specific offers and financing to support customer-members and businesses in their environmental approach.
In addition to zero interest rate eco-loans, short-term and long-term energy saving loans, solidarity savings and the financing of renewable energy projects, Crédit Mutuel Alliance Fédérale offers subsidized loans to encourage growth and development of companies which have adopted a CSR approach or invested in concrete actions to support sustainable finance and the energy transition.
Actions taken to create a long-term and sustainable relation with member-customers
Crédit Mutuel Alliance Fédérale has entered into a partnership with Voltalia to produce green electricity by signing a 25 year long-term contract for the direct purchase of renewable electricity with a green energy producer enabling the construction of a new 10 MW solar plant in France.
CIC, a subsidiary of Crédit Mutuel Alliance Fédérale, is a signatory to the Poseidon Principles, to nudge operators towards significantly decarbonising the shipping.
The travel policy allows for an ecological "SMR" bonus for any alternative energy vehicle in the fleet and encourages Crédit Mutuel Alliance Fédérale entities to use hybrid and electric vehicles.
At the end of 2020 and after an 18-month project, Crédit utuel Alliance Fédérale obtained the ISO 50001 certification which aims to increase the energy performance of the facilities.
Development by Euro information of a remote software. This application is deployed at the head offices and on almost the entire perimeter, making it possible to target nearly 30,000 workstations across the entire perimeter.