In a market environment subject to constant regulatory changes, the depositary function plays an essential role in monitoring the compliance of Undertakings for Collective Investment offered to investors. The selection of a solid partner, capable of carrying out its missions to protect assets and investors, is essential for asset management companies.
Drawing on the strength of the Crédit Mutuel Alliance Fédérale group, BFCM offers a complete service solution to fund managers through its three regulatory missions:
Controlling the regularity of fund management decisions.
Custody of assets, i.e. safekeeping (mainly securities) and record keeping of other securities (financial futures and other pure registered financial instruments).
Monitoring of liquidity flows or cash monitoring.
It can also carry out the contractual task of maintaining the liabilities of UCIs, when this is delegated by the asset management company.
Our experience and know-how at your service
Over the past 15 years, BFCM's teams, made up of employees from specialised financial professions, have acquired the know-how required to meet the demands of the profession in an accurate and responsive manner.
This expertise, combined with that of the Crédit Mutuel Alliance Fédérale entities on which BFCM relies, the development of integrated tools to secure its action, and its organisation based on proximity, enable it to offer availability and solutions adapted to asset management companies.
BFCM's Depositary function also works closely with Crédit Mutuel Asset Management on its valuation and accounting management services for UCIs in order to offer asset management companies an integrated approach.
In addition, BFCM has been rewarded with the ISAE 3402 Type II standard for depositary control activities for several years. An annual audit, conducted by an independent body, enables asset management companies to ensure the quality of the monitoring carried out by our teams.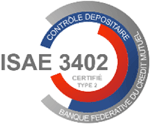 Our activity in figures as at 12/31/2022
30 asset management companies registred
Included 25 private equity companies
1 100 funds deposited
Included 150 private equity funds
€75 billion in assets deposited
Included 6 billion in private equity assets
Our references
BFCM is the leading player for Crédit Mutuel Alliance Fédérale's asset management activities:
We have also developed expertise in private equity, which requires customised support through personalised knowledge of our partners' practices.
Among the main partners who have placed their trust in us for many years are the following structures: